Introduction
A Post Type is a catagory for your Posts that needs to be created before any individual posts can be added. For example, if you would like to add news articles to your site, you would first create a Post Type named "News." Below, you will find instructions for creating a new Post Type.
Note: Each post type requires a "default" page to display the posts. If the posts will be going on a new page, see Create a New Page for more information.
Step 1 - Click "Manage Post Types"
Begin by mousing over the "Posts" tab in HillTop's main menu. Next, click "Manage Post Types" at the bottom of the drop down menu.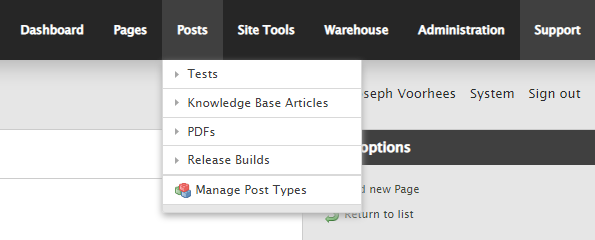 This will take you to a list of existing Post Types on your Web site. Here, click the "+Create" button in the right sidebar.
Step 2 - Complete the "Add Post Type" Form
Title Information
Title: This is the title for your Post Type.
Name: This is the internal identifier for your Post Type.
Singular and Plural: These are the singular and plural forms of your Post Type title. (ex. Singular: Newsletter, Plural: Newsletters)
Website Page: This will be the "default" page for the post type, where the posts will be listed. Select the appropriate page from the dropdown menu.
Content Information
Content: Optional. A description of the post type (internal use only - does not appear on the website).
Abstract: Optional. A short description of the post type (internal use only - does not appear on the website).
Display Information
Weight: Optional. This option determines the order of the Post Type when mousing over the "Posts" tab in the main menu.
Active?: Ensure this option is set to "Yes" to display posts from this post type on the website.
Access
Groups: Select the User groups who will have access to your Post Type. Select "Administrator" for default access to all admins.
Admins: Select specific Users you would like to give ownership permissions to.
NOTE: A Group or Admin must be selected in the section. Only the Groups/Admins selected in the section will be able to add/edit posts.
Labels
Label Types: Optional. Select the Label Types that should be available for posts. Ex. select "Issues" to tag posts from this type with "Issues" labels.
Labels: This section can be ignored.
Finish - Click Submit
Once you have completed the form, click the "Submit" button to create your new Post Type. You can edit your Post Types at any time by returning to the "Manage Post Types" page on your Dashboard and clicking the "Edit" button (pencil icon) to the right of the Post Type title.
See "Add Posts to a Page" for adding posts from the new Post Type to the website.