Introduction to Users and Groups
This page will explain the User and User Group functions available for your Web site. The following tutorials contain step-by-step instructions for creating, editing, and deleting Users and User Groups.
While editing a User or User Group, you will be able to assign "permissions," which are settings that allow, or deny access to specific functions within your Web site, such as Web page creation and Post deletion. Users are assigned their own specific set of permissions, while User Groups take a single set of permissions and assign them to all members of the group. For example, the majority of HillTop user accounts will be assigned to the "Administrator" User Group, which allows access to all functions within HillTop.
To access the Users and User Groups registered on your Web site, begin by clicking on the "Administration" tab, located at the top of your HillTop Dashboard.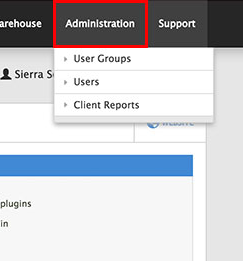 After clicking on the "Administration" tab, you will be forwarded to the Administration section of your Digital Bell Dashboard. For the purposes of these tutorials, we will focus on the first two sections, titled "Users" and "User Groups," as shown in the image below.

return to top

To begin adding a new user, click the link labeled "+Add a new user," under the "Users" section of the Administration dashboard. This will bring you to the Add User form, as seen below. Enter the new User's name, e-mail address, and password into their respective fields. You may also add the new user to any existing User Group(s) at this time.

When finished, click the "Submit" button at the bottom of the page. This will take you to the list of Users on your Web site. Here, you can edit the User's details and assign permissions, which are described in detail in the following tutorial.

return to top

To edit an existing User's details and/or permissions, click the link labeled "View the list of users," under the "Users" section. This will take you to a page listing all of the Users registered on your Web site.

Details

To edit a User's details, click the "Edit" button (pencil icon) to the left of the User name. This will allow you to modify the User's name, e-mail address, password, and User Group assignments. To assign a User to a User Group, find the appropriate group(s) listed at the bottom of the page, and tick the checkbox(es) to add the User.

Permissions

To edit a User's permissions, click the "Permissions" button (key icon) to the left of the User name. This will take you to a page containing all possible permission options available to the User. Here you can define what a particular User can or cannot do within your Web site.

Each seperate permission option on this page is composed of three elements: the content type, the function, and the setting.

The content types are listed in the gold colored headers, throughout the page. Account Logs, FAQs, and Pages are examples of content types. The content type defines what particular component of your Web site a User has access to.

The functions are listed directly beneath the content type. Add, Delete, and Edit are examples of functions. The functions determine how a User can interact with a content type.

The settings are radio buttons placed to the right of the function. They are "Default," "Allow," and "Deny." The setting, in combination with a content type and a function, determines whether or not a User can perform a function on a specific type of content.

For example, in the "Posts" content type, setting the "Add" function to "Allow" will allow a User to add posts to your Website.

return to top

To delete a User from your Web site, click the link labeled "View the list of users," under the "Users" section. This will take you to a page listing all of the Users registered on your Web site. You can use the "Quick Search" box in the upper left hand corner of this page to search for a particular User by User name.

Once you have found the appropriate User, click the red "Delete" button (minus sign icon) at the far right of the User's row. A pop-up window will appear, asking you to confirm your deletion. Click the button labeled "OK" to delete the selected User from your Web site.

return to top

The Digital Bell comes with an "Administrator" User Group by default. New User Groups can easily be created, for example: "English Department" or "Teacher's Assistants."

To add a new User Group, click the link labeled "+Add a new user group," listed under the "User Groups" section of your Dashboard. Clicking this link takes you to the "Add User Group" page. Here you will enter the name and description of the User Group in their respective fields.

Clicking the "Submit" button adds the new User Group to the list of existing User Groups on your Web site. To add Users to your new User Group, you must edit the details of each User you wish to add, as described here.

return to top

To edit an existing User Group, click the link labeled "View the list of user groups" in the User Groups section of your Dashboard. This will take you to a list of all User Groups on your Web site, as seen in the image below. You can search for a particular User Group using the "quick search" box in the upper left hand corner. Once you have found the appropriate Group, you can edit the Group's details and permissions from this page.

To modify a User Group's details, click the Edit button (pencil icon) to the left of the Group name. This will take you to a page where you can edit the Group's name and description. When you are finished, click the "Submit" button on the bottom of the page.

To modify a User Group's permissions, click the Permissions button (key icon) to the left of the Group name. The Group permissions function in the same way as User permissions, as described here, but will apply to all members of the Group.

However, note that User Group permissions will not override an individual User's permissions if they have been explicitly given non-default ("Allow" or "Deny") permission settings.

return to top

To delete a User Group, click the link labeled "View the list of user groups" in the User Groups section of your Dashboard. This will take you to a list of all User Groups on your Web site. Search for the User Group using the "quick search" box in the upper left hand corner, or simply locate it on the list.

To delete the Group, click the red minus sign icon at the far right of the User Group's row. A pop up box will appear asking you to confirm your deletion. Click "OK" to delete the User Group from your Web site.

return to top