Introduction
If you have enabled visitor comments, you can moderate which comments will appear on your site. By enabling moderation, you can restrict inappropriate comments from being posted to your site. The tutorial below will explain how to use the moderation functions built in to HillTop.
If you would like to enable comments on your Web site, contact support@gslsolutions.com.
Step 1 - Click the Moderation Link
After logging in, place your mouse cursor over the "Site Tools" link, in the menu at the top of your Dashboard. From the drop-down menu that appears, click on "Moderation." This will take you to the Moderation form.
Step 2 - Moderate the Comments
In the Moderation form, you will see a list of all "Unmoderated" comments by default, as shown in the example image below.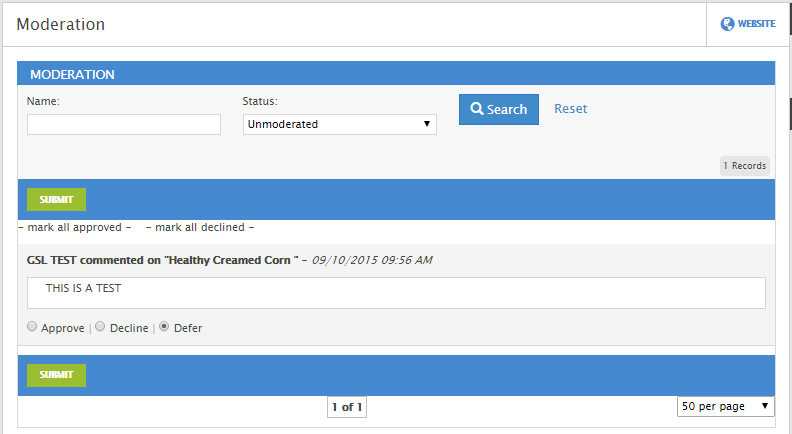 The comment in the example image is awaiting a moderation decision, and is not currently being displayed on the public site. Below the comment, there are radion buttons for "Approve," "Decline," and "Defer."
Approving a comment will allow it to be displayed on the public site.


Declining a comment will prevent the comment from being displayed.


Defering a comment allows it to remain in the "Unmoderated" queue.


From the moderation form, you can also search for comments by name, which can be helpful if need to decline multiple inappropriate comments, left by a single individual.
Comments can also be sorted by status (Moderated, Unmoderated, Approved, or Declined). The sort feature can be used to reassign a status to comments that have already been moderated. For example, sorting by "Moderated" comments will allow you to approve or decline comments that have already received a prior moderation decision.
Finish - Click Submit
After making a decision to approve or decline the unmoderated comments, click the "Submit" button to complete the process.
Approved comments will then be displayed on the page where the comment was entered, and declined comments will be hidden from your site's visitors. All defered comments will remain in the queue for a future decision.